We had another great year here at MusicMedic.com and one of the reasons it was so cool was the addition of new tooling in our shop and how it has helped our products and production.
A driver of creativity here has always been the way the different parts of the company work together and help our clients and customers receive the best and most innovative tools supplies and techniques. MusicMedic.com the supplier, the Pad Company, and the Sax ProShop constantly collaborate to improve and grow.
In order to build a saxophone from scratch at the Sax ProShop, we needed big tooling so we got a lathe and a mill.  Now that we have those machines, it opened the doors for us to make other tools in house and if you've kept an eye on the Bench Notes and our Facebook, you've probably already seen a lot of great new tools, made right here in Wilmington, NC.
In 2016 alone, we began making our Stainless Steel Body Slam Tool in house, as well as dent rods with hardened threaded inserts, stainless dent balls, stainless dent barrels, flute dent nubs, stainless body mandrels for sax, the world's largest flute (and alto flute) body mandrel with our flute stabilizer, stainless flute head mandrels, and many other dent working accessories.  We also began making custom necks, such as the Conn 12M, the Conn 12.5M, Buescher Baritone, King Saxello and more.
We've also got tons of prototypes in the works, such as a series of parallel expanders, a large array of parallel pliers, and a very slick pair of parallel spring removing pliers.  We'll be adding new models of saxophone necks to the website soon, such as the Super Balanced Action Tenor. If you have an idea for a new tool that you'd like us to make, send us an email!
When you design, build, and create in-house, you have absolute control over quality and the ability to quickly implement improvements. So if you've seen our new products in 2016 check out our progress and quality in 2017! This will be the year that we make major strides on building our saxophone, and the year we introduce new tools, techniques, and concepts that are going to push woodwind instrument repair to new heights.
A huge thank you to all of our customers in 2016 who believed in our goals and trusted MusicMedic.com to deliver the best in woodwind pads, supplies, and tools! We can't wait to show you what we're working on in 2017!

Break out the champagne, because we're having a celebration here at MusicMedic.com: 1,000 days since our last pad backorder!  We began the process of making pads at our shop around 5 years ago, but its hard to pinpoint the exact date since we had been working on the project for quite some time, making the tooling, finding the best sources for the materials, training the pad makers, etc.
We started making pads because we couldn't get the consistency we needed from our old supplier, and they were constantly behind schedule. Once we started making the pads, the quality was better, but we had a lot of trouble keeping up with demand.  There was always at least one size of pad that was backordered.
Then we switched up our system from batch manufacturing to lean or "just-in-time" manufacturing.  This meant that instead of making what we predicted to be a several month supply of 45.5mm tan pads at a time, we made the pads per order.  This switch in manufacturing was a real game changer for us because it allowed us to get rid of the backorder system that we'd had in place for 13 years.  1,000 days later, and there are still no pad back orders!
Lean manufacturing is a fascinating system used by companies like Toyota to cut waste and deliver excellent products at a reasonable price, while remaining competitive.  That's because there isn't product being made and not sold, allowing you to use your capital and manufacturing space more effectively with minimal amounts of waste and little need for storage.
This manufacturing system is designed to improve quality of product quickly, and came with the added bonus of improved delivery. Our pad system is now more efficient, has more quality checks, has fewer mistakes, and more of right size pads.  Over the years, this allowed us to improve our pads substantially, yielding flatter pads of the proper thickness and diameter, less measurement variation, and more consistency in materials and leather.
So happy 1,000 days of faster woodwind pad delivery!  We're celebrating 1,000 days of MusicMedic.com being a leader in pad manufacturing and delivery in the US (but don't worry, it won't put us behind on our pad orders).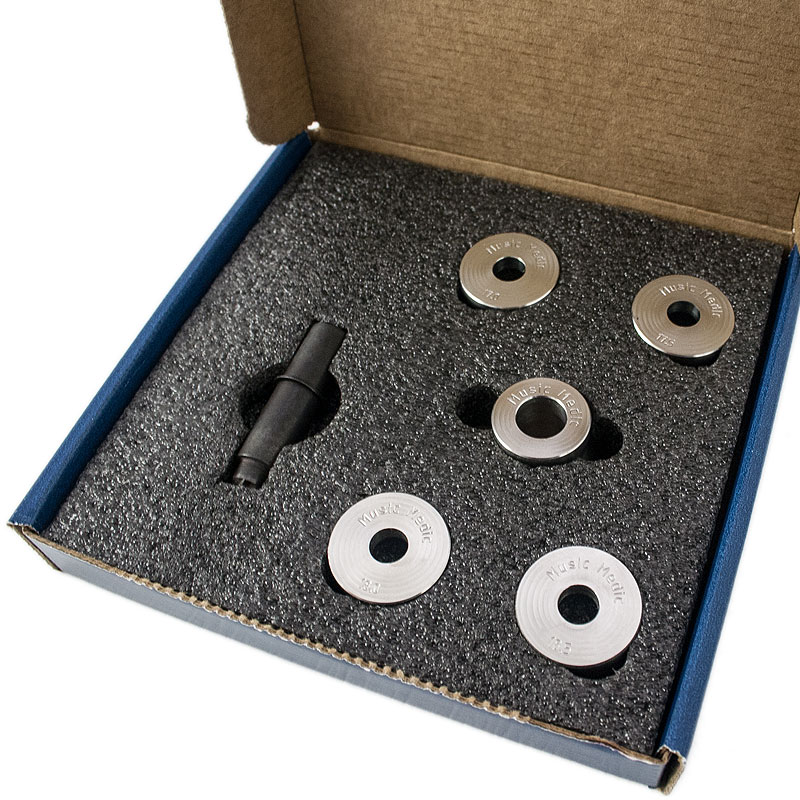 This Open Hole Flute Pad Punch set is made entirely at MusicMedic.com in Wilmington, NC. Easily turn regular flute pads into Open Hole Flute Pads and benefit by minimizing your stock. There are 4 stainless steel bottom dies in 17 mm, 17.5 mm, 18 mm, and 18.5 mm diameter sizes. The cutter is made from hardened tool steel. It fits into the guide and punches through the pad and stops against the bottom die. This keeps your cutting tool sharp since it is not being pounded into a cutting board or any other type of bench block. The set comes in a neatly organized blue box for easy storage.
The Open Hole Flute Pad Punch makes a 9.0 mm diameter hole. Other sizes of cutters and dies can be made upon request.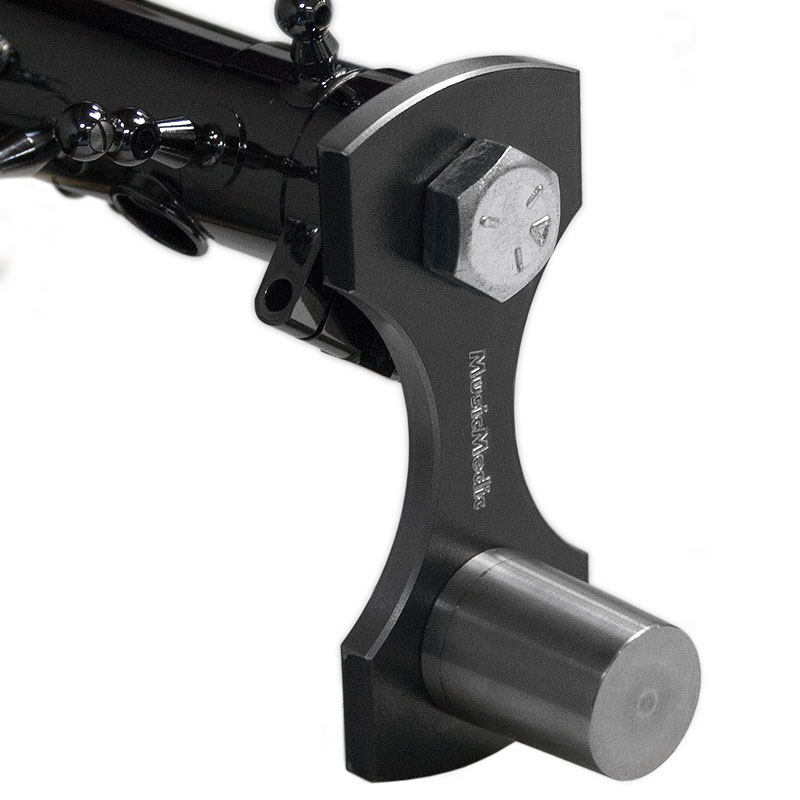 Our saxophone body straightening tool was designed at the body work station in our shop. We designed the plugs for this tool to have a gentle taper which will contact the receiver on the body at more than one point. This helps hold the tool securely in the receiver. The center plate has been cut out to reduce the weight of the tool. The radius on the "I" shaped center plate distributes the force of the blow evenly. This allows the technician a little bit of leeway when tapping the horn against the bench. If you miss you still transfer the same amount of force as if you had hit the tool squarely on the bench.
The Sax Body Slam tool plugs will fit in most makes of alto and tenor saxophones. If you need a custom-made plug for a larger or smaller tenon please email us.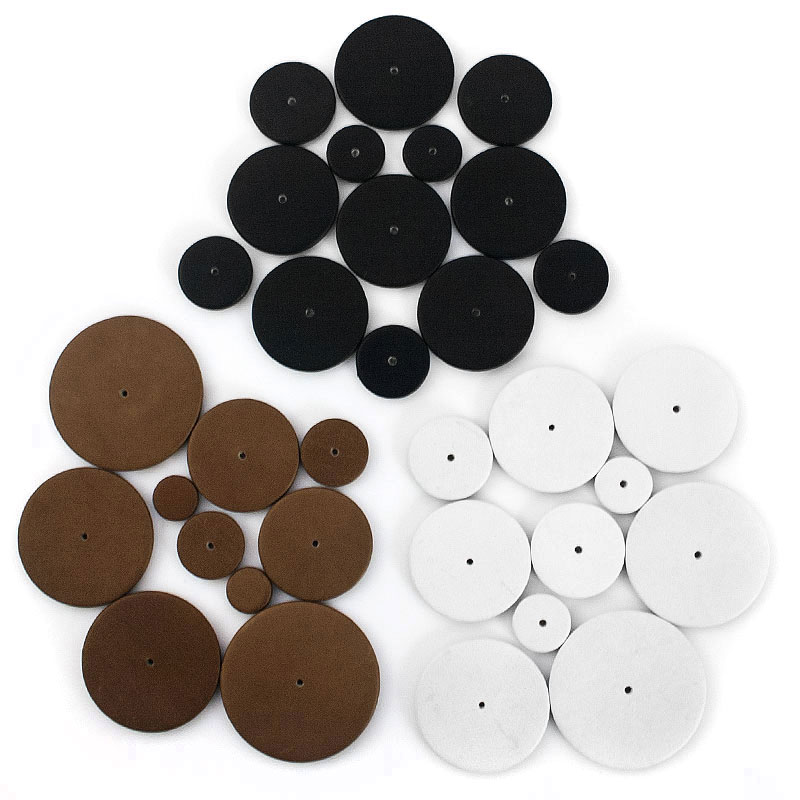 We are proud to offer these three handy assortments of Roo saxophone pads in the most common sizes to help get your shop started and save you time and money. The pads are separated by size and are easy to access or they can be easily put into pad bins.
We analyzed 5 years worth of recent pad sales data so that we can include the truly most used sizes of pads to our customers. These sets will get you started, and should you happen to need a different size, our quick turn-around times and free shipping will help you get the supplies you need to get the job done.
Our RooPads are made from premium imported Kanagroo leather and the finest European felt, all hand-assembled and quality checked at our shop in Wilmington, North Carolina, USA.
These assortments come with no resonators, so that you can size the resonator exactly to the tone hole and offer your customer a resonator choice. The pads come with 3mm holes, but if you plan to use our plastic resonators, let us know and we'll make them with 4mm holes.
250 is for small shop doing little saxophone work or for home shops. A selection of 250 individual pads in 26 different sizes of our most popular pad- with more pads in the most common sizes.
500 is for a small shop that wants to spend less money getting started. A selection of 500 individual pads in 52 different sizes of our most popular pad- with more pads in the most common sizes.
1000 is the best deal and contains more of the larger sizes. A selection of 1000 individual pads in 52 different sizes of our most popular pad- with more pads in the most common sizes.
Don't forget resonators, rivets, and a rivet splitter!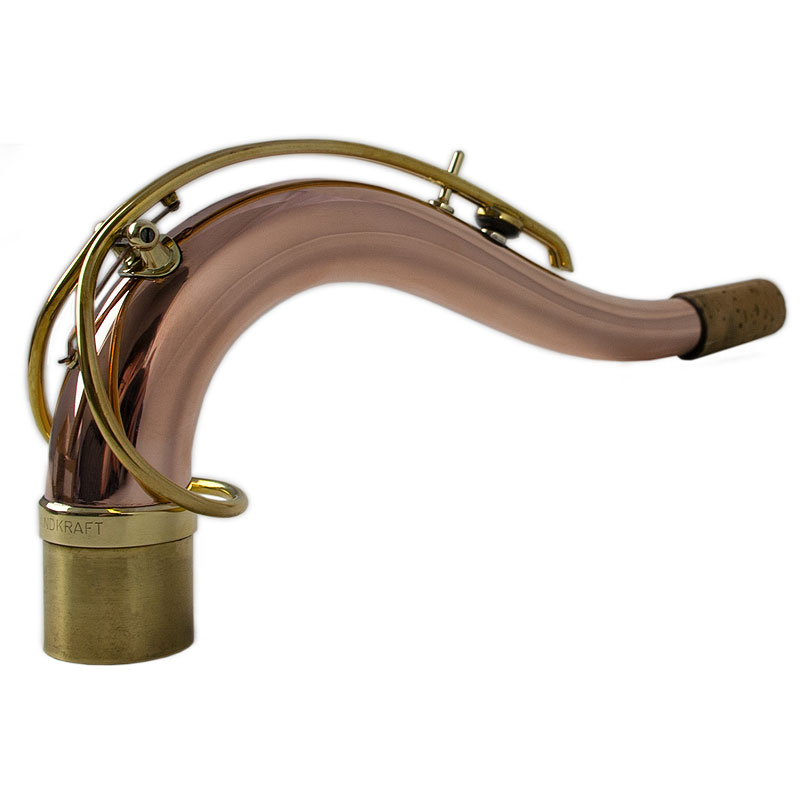 Gloger Handkraft necks are premium replacement saxophone necks hand made in the netherlands by Karsten Gloger. These necks are custom made for your instrument from solid high density copper, solid high density silver, or solid gold (by special order).
Gloger necks are well known for their open sound and full bodied tone. They can also greatly improve intonation and response in the very low and highest notes on an instrument. MusicMedic.com is honored to be the US importer of Gloger necks. Gloger necks are available for most models of saxophone, including double socket necks and underslung octave mechanisms.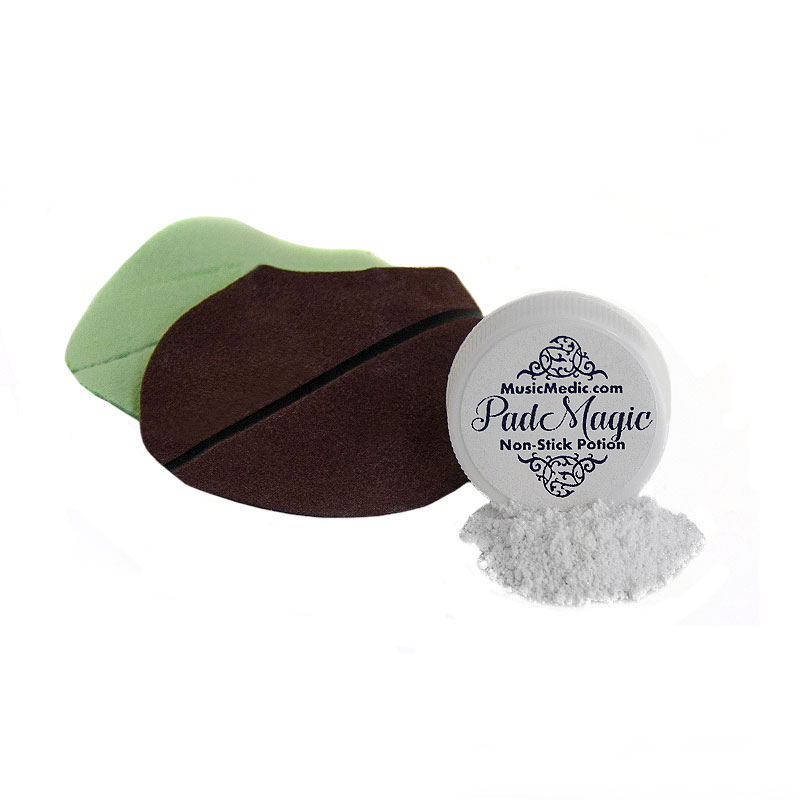 Sticky pads are noisy, cumbersome, and hugely disruptive to a saxophonist. Although no pad powder lasts forever, MusicMedic.com's PadMagic offers the longest lasting results of any pad powder on the market. PadMagic is a blend of 7 unique compounds that combat pad stickiness in several ways. PadMagic preserves and conditions the leather and forms a micro-thin non-stick surface on the pad and its tone hole, which helps prevent build-up that leads to stickiness. This effective pad solution comes with two microfiber cloths, one for cleaning and one for application. Use the cleaning cloth to remove grime and deposits from the surface of the pad and tone hole by gently closing the pad on the strip and pulling it out from below the pad. Next, use the applicator which is impregnated with PadMagic to apply the powder to the pad and tone hole. PadMagic will not cake up, holds onto the leather, and doesn't stick to itself. Rejuvenate the applicator by simply dipping it in the PadMagic powder or mixing more PadMagic powder in the bag. PadMagic is a must-have case accessory for anyone who plays a woodwind instrument.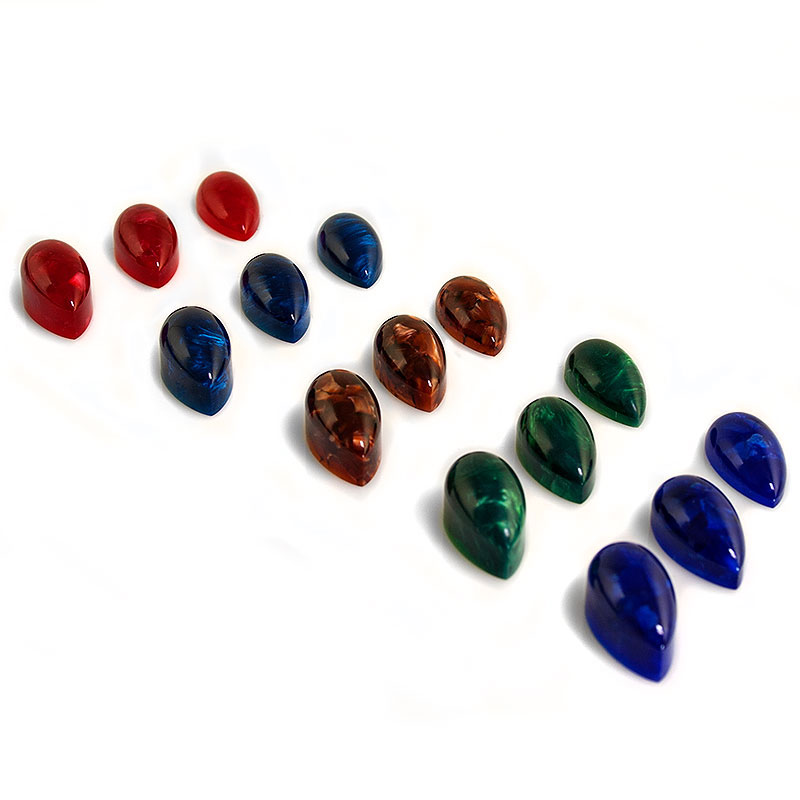 Somewhere near the center of the earth, a rare element was discovered by the MusicMedic.com Sax ProShop's own Ryan Walker. He named the element of swirling beauty Ryanite and brought it at once to the Sax ProShop where he began his top secret testing. He emerged with the most striking palm key risers ever seen and they are now available saxophone players everywhere! Hands come in all shapes and sizes, yet most saxophones are non-adjustable. This can make it difficult for people with larger hands to activate the palm keys quickly and comfortably. Ryanite Palm Key Risers are available in 3 heights: 3.7mm, 6.4mm, and 8.8mm and come in 5 different colors: Sweet Georgia (brown), N.Y. Blue (swirl blue), MusicMedic Blue (brighter blue), Fire (red), and Envy (green). The risers are shaped to fit modern saxophone palm keys, but a dremel tool can be used to reshape them for most other palm keys as well. Ryanite Palm Key Risers are sold individually, but a 10% discount will be applied to orders of 3 or more so you can combine any size and color for the perfect customization. The most common combination of risers would be the tallest riser on D, the medium riser on F, and the shortest riser on Eb. All risers come with adhesive which will form a strong bond to the palm key but is also removable with carefully applied heat. To install, simply remove the palm key from the saxophone, apply the adhesive, attach the Ryanite riser, and let set up for 6 hours.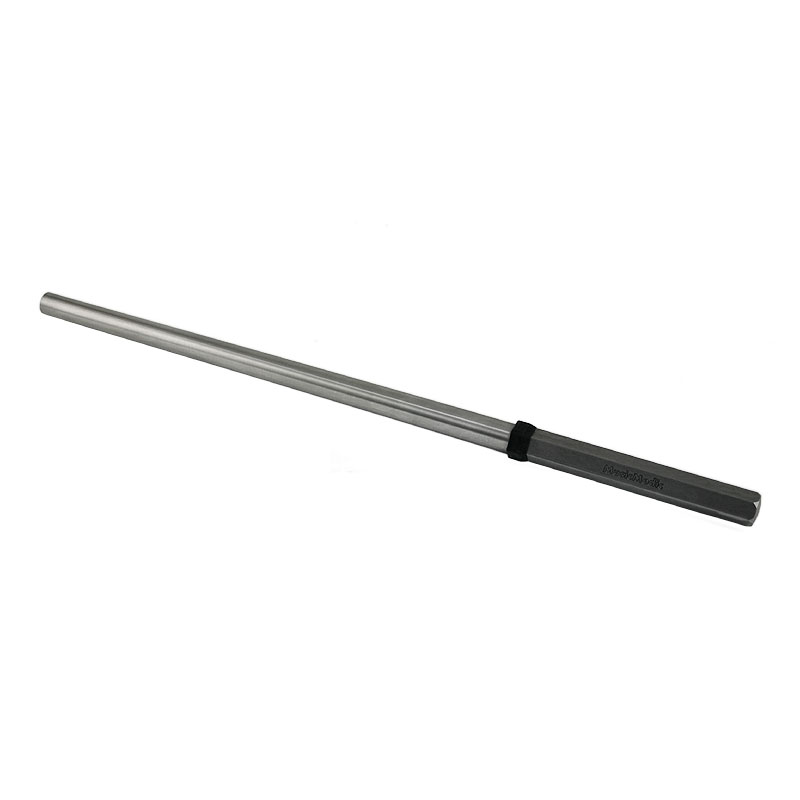 Pro Flute Head Mandrel
We're confident that our precision 100% stainless steel Flute Head Mandrels are the industry's finest. Tapered to match the head joint, these mandrels can be used for checking straightness, burnishing, dent removal, and for holding while polishing or completing work on the head joint or lip plate. The long taper also allows the mandrel to fit inside the head joint even if there are some dents and damage.
This model is fitted with a hexagonal delrin stopper to prevent the mandrel from being inserted too far and a stainless hexagonal handle that will keep the mandrel from rolling around on the tool bench and can be securely chucked in a vice.
If you already have our flute body mandrel, you know the fine quality of this tool. All mandrels come with our protective blue mandrel guards.
Economy Flute Head Mandrel
This mandrel is the same as the professional model, only without the hexagonal handle and delrin stopper. Technicians can make their own handle or use with our dent rod.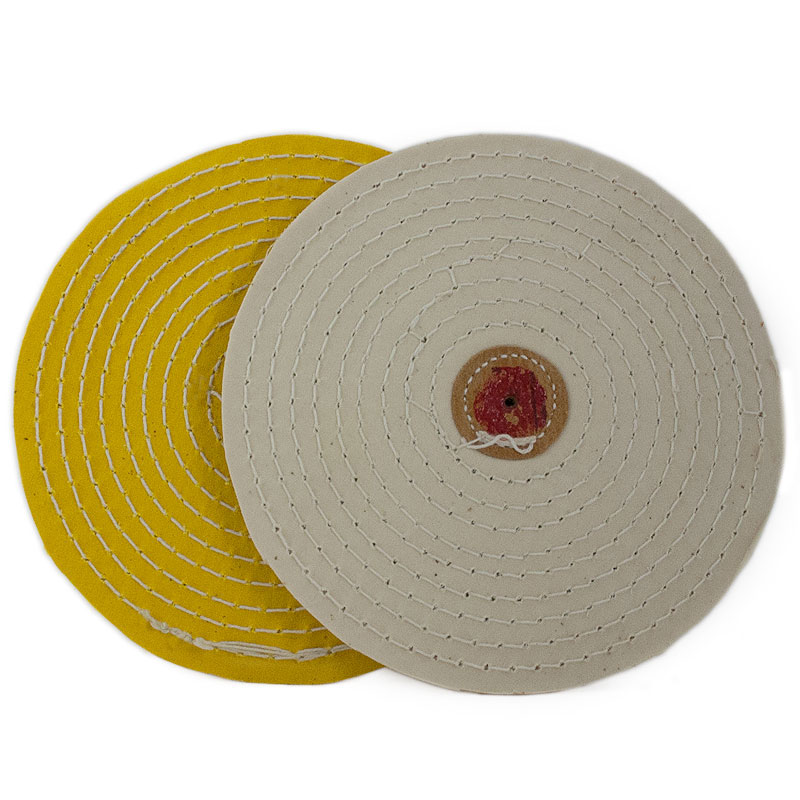 This wheel is perfect for hard to reach areas on key work. It works especially well to polish the corner where a key arm and hinge rod intersect. Center is reinforced with leather. Use with any compound. Edge thickness is 5mm tapering to 10mm at center.
Stitched with Leather Center
Yellow 6″ 12 ply. 10 rows of stitching
White   6″ 12 ply. 10 rows of stitching

Recently, as popularity for our new "The Wilmington" line of instruments has increased, I've gotten a few questions about why are we doing this? Doesn't the world have enough economy instruments? Could another instrument make a difference?  In a company that's known for being innovative and creative, why would we be importing value priced instruments, and for that matter, why import any instrument at all when you're nearly ready to make your own in-house?
When it comes down to it, the devil is in the details.  There is a huge amount of imports available in the US, but we hope The Wilmington instruments are on a different level for several reasons and that's why we're proud to offer them.
Years ago, when I started visiting and consulting factories in China and around the world, I was there with the intention of helping them develop their techniques and processes.  Over the past 5 years, I've been to dozens of factories, with no less than 15 focused on flute, 15-20 on clarinet, and 15-20 on saxophone.  The factory owners are good people, they're nice and thoughtful, and some have turned into good friends over the years.  Some have all the right machinery, great staff, skilled technicians, but what none of them have is a history with the instruments and sometimes their results reflect that lack of familiarity.
Flutes, clarinets, and saxophones are a big part of the American music history and thus many people here are familiar with the sound, the feel, and the tone.  American manufacturers benefited greatly from this history. Almost without exception, instruments leave Asian factories without being played or truly understood. It's like the equivalent of an American manufacturer trying to make a sitar: there are likely not workers who are familiar with the instrument, and it's quite difficult to produce an instrument that is going to satisfy the end user.
Removing Barriers for Working with the Manufacturer
Most Chinese factory bosses and staff do not speak English. This was my first unmistakable obstacle. To overcome this, I am constantly working to improve my Mandarin language skills, both spoken and written. I won't say that I speak fluently (because that would be a lie!) but I do speak enough to communicate some basic ideas and know the context of what others around me are saying. Language has been a huge hurdle which required hundreds of hours of study and still about 30 to 90 minutes of practice each day with a native speaker of the language and through educational books and software. Along with learning any language comes learning the culture and gaining the respect of those around you. The study of Mandarin has taken down more barriers than you might be able to imagine.
At the Sax ProShop, we can offer our collective and exceptional knowledge of the saxophones that we repair, and what we've learned from the early processes of building a saxophone from scratch ourselves. In the US, reed instruments are quite popular and we have a bounty of great players and great technicians to help us assess and repair instruments. But to share these ideas, someone must listen to what we say and believe that we have a true understanding. Having given over 20 repair clinics throughout China, exhibited at nearly every music industry trade show around China, and traveled to and worked with over 30 factories, MusicMedic.com is a household name to those who repair and many who play throughout China. The Sax ProShop's thorough and meticulous understanding of musical instruments would fall on deaf ears if the factory did not know and understand that the specifications requested by "The Wilmington" instruments can improve all their instruments. So, no matter what the cost, the factory knows that if we insist on it, it must be done for the good of all their instruments.
With the line of communication open, good ideas coming from both directions, and two companies that respect each other, it's time to get down to the details.
Making Real Changes
By far the most unique and challenging aspect of working with a manufacturer, once you have opened the line of communication, is knowing what changes you should not make. Finding flaws with an instrument is simple as pie, and suggesting a fix is also usually straightforward when you know your business. However, knowing what changes the factory can and cannot implement, changes they will and will not make, and why they make the choices they do is an art form. If you understand the tooling, the process, and the tradition of a factory, it is possible to suggest a change, show them how they can easily implement that change, and why. When you suggest a change that will require a lot of money in tooling or process changes, you will do well to know that this change is difficult and help analyze the potential cost versus benefit for the factory and the customer. Learning the factory's tools and styles of production have allowed us to work with them. There have been times that we even make some tooling for them to help, resulting in the improvements we were after.
Another example of this is when I once spoke to the instrument manufacturer about switching to all stainless-steel pivot screws. Pivot screws are one part of the instrument that are not made in this factory and it would be quite cost prohibitive to ask them to make them. At a previous trip to a supplier factory, I saw that they already made a pivot screw that I was satisfied with and that they made them in stainless steel. I asked the supplier to send some screws to the instrument manufacturer. When they arrived, I got a message asking what was up. I said use these pivot screws and made the factory the appropriate reamers to use with their tooling. In a later visit, I could show why I made this choice and they implemented the improvement on all their instruments. Success! Everyone wins because we have an in-depth understanding of potential limitations and found an alternative solution.
Understanding the Ordering Process
If you've been following the Wilmington instruments, you see that we keep running out of instruments. Of course, this is because sales are good but this is also because we are not ordering in large quantities. We have received several orders and on each order, we could make additional improvements. It's easy to think that ordering in small quantities like this costs too much shipping and the final cost to the customer will be too high. Conversely, older business models suggest that if you order a large quantity, the price will be lower and the customer will get a lower price and therefore a better deal on their instrument.
We have found that this is the opposite of the truth when it comes to instruments, as with other more complex equipment and supplies that we order. As a company, we are always working to embrace and understand the concepts of the Lean Manufacturing process. This leads us to searching for ways to reduce waste, which is what gives real value to our customers. By ordering small and working directly with the manufacturer on each small order, the potential of tremendous waste that can result from large batch ordering is mitigated. Most importantly the player will be sure to get an instrument that plays very well as we can take the time to fix any issues knowing it will be corrected in the next order. This is in perfect line with our goal of continuous improvement as well as our desire to continue to deliver quality to our customers. Our ordering and improvement philosophy is the secret to our low price and high quality nearly above all others.
When each small order arrives, we evaluate every aspect of the shipment, from packaging to intonation. We create a simple hand-written list of areas that need attention that stays with each saxophone while we set up the instrument in the Sax ProShop. Our friends at the factory are then contacted and we discuss the issues. We discuss what is good and must stay and what changes we need. Because the small factory made the order not too long ago, they remember what changes they made and now they get nearly instant feedback and another order to improve. Constant improvement is paramount to working with MusicMedic.com and our friends in the factory know this.
Setting Up the Instruments
Our goal with The Wilmington woodwinds is to work with the manufacturers so closely that eventually they do not need any work done to them in the US. That said, we are not rushing to this. Anyone who has worked on an instrument knows that there are a lot of variables involved in repairing. One can do almost everything right and miss a few small things and the instrument will not play. It's also common out in the performance world to see an instrument that is in terrible shape where keys are nearly falling off yet the instrument is used on high profile gigs and seems to play well. So, simply playing an instrument is not enough. There must be thoughtful people to evaluate, tear down, set up, AND play the instruments. As I write this short article, there are five excellentsaxophonists working in or visiting the shop and the sound of two Wilmington Alto Saxophones being play-tested reverberating throughout the building. This is an environment capable of producing a great instrument, time and again.
Service and Parts Supply
Of the many reasons that MusicMedic.com and the Sax ProShop should import instruments, one of the most obvious is our ability to offer service and parts. We fix horns and we sell parts. At the time of this writing we are organizing a parts section on the website which we hope to launch in early 2017.
I'm lucky to work at the Sax ProShop, where we have built our team from the ground up of the finest saxophonists and specialized technicians that are available anywhere, and these people have supported The Wilmington instruments from their inception. In addition to the mechanical knowhow, we can tune saxophones, we understand the shape of the taper, the shape of a neck, pivot screws, threads, brass alloys, sound, feel, the geometry of key work and you name it. I'm so fortunate to work with so many talented people who set-up and add additional improvements to the Wilmington instruments. When you come from a place where woodwind instruments are played often, it can be easy to undervalue that knowledge.  Worldwide, however, it isn't that commonplace and I try to stay keenly aware of that.
These reasons are why we go through extra effort to be able to guarantee the imported instruments that we offer through MusicMedic.com.  We believe that it is possible to offer economically priced instruments that perform well, and the result of years of factory visits and improvements is The Wilmington line.
Copyright © 2000-2017, MusicMedic.com, All Rights Reserved.